2017 The Newest Style Rack type inverter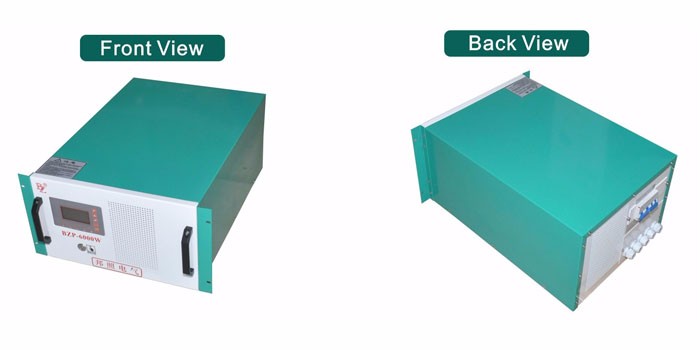 Yueqing Bangzhao Electric Co., Ltd. according to customer requirements designed "2017 The Newest Type Rack Mount Low Frequency Off Grid Inverter".
Features:
1, Standard rack mount cabinet, front and back side with ventilation holes for good cooling performance.
2, Small size(Width*Height*Depth):
435*605*267mm:(1-6KW single phase)6U
435*635*400mm:(5-10KW three phase)9U
3, Light weight, product net weight is about 40-120kg
4, 100% full power output
5, High efficiency > 94%
6, Two kinds of start mode:Variable frequency start(soft start) and step down voltage start
7, RS485 monitoring, AC bypass(grid or generator) input, built in solar charge controller(Optional)
8, Built in low frequency isolation transformer, which ensure the AC busbar and DC busbar are completely isolated, the harmonic and interference is very little, suitable for all types of load.
9, Suitable for off grid without battery system, the DC input voltage range can be choose from 48-100V or 100-300V or 200-500V or 400-800V or others customized voltage range.
10, Can continuously work for 7*24h, the design service life > 15 years.
11, Big LCD display, parameter setting flexible,input and output voltage,frequency can be set on LCD.
12, Using the sixth generation efficient IPM intelligent module from Japanese Mitsubishi, high efficiency and stable performance. It with powerful protection function, the protection for short circuit, over load, over temperature is more safe and reliable. It's service life can up to 15 years or more.
13, Power range: 1kw-10kw, can be customized to customer's requirements.
Please feel free to give your inquiry in the form below.
We will reply you in 24 hours.