the weight less than 100kg Rack-mounted Type Small Size Inverter
Brand : BZ or Bangzhao or OEM
Product origin : China
Delivery time : 5-7 working days
Supply capacity : 10000 PCS/Year
1kw/3kw/5kw/8kw/10kw Rack-mounted Type Small Size Inverter
Yueqing Bangzhao Electric Co., Ltd. according to customer requirements designed "2017 The Newest Type Rack Mount Low Frequency Off Grid Inverter"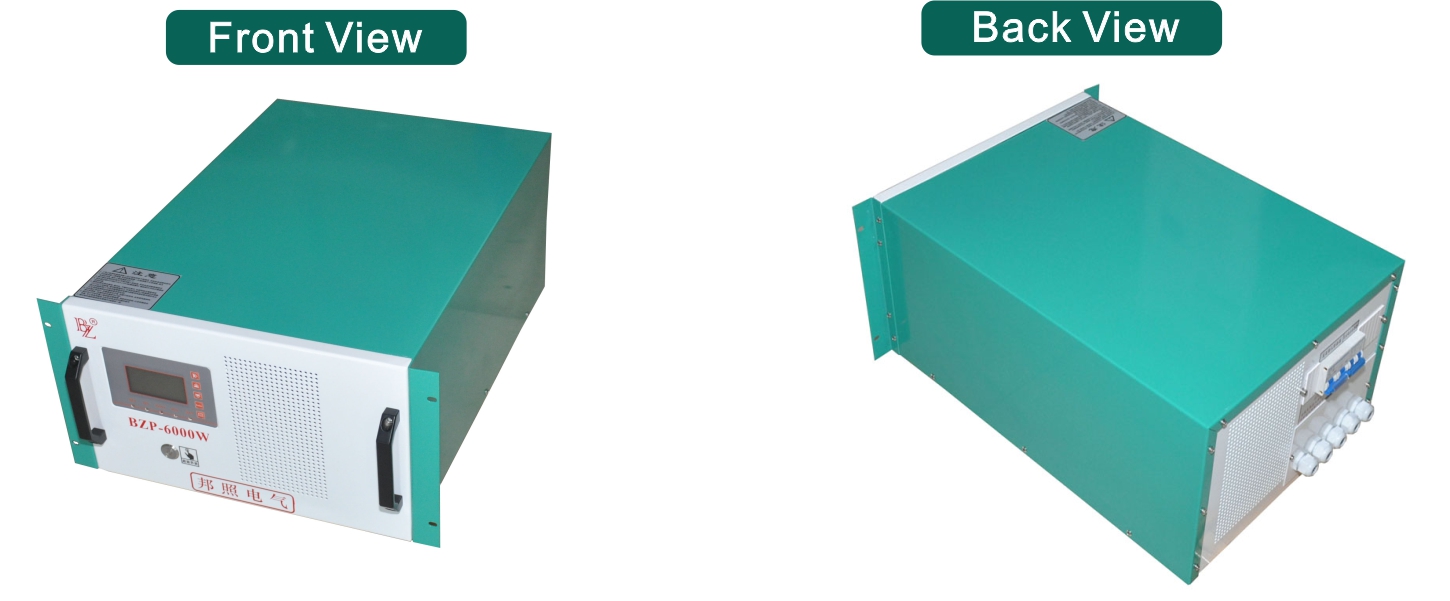 Rack-mounted Type Small Size Inverter Technical Features:
1, Standard rack mount cabinet, front and back side with ventilation holes for good cooling performance.
2, Small size(Width*Height*Depth):
435*605*267mm:(1-6KW single phase)6U
435*635*400mm:(5-12KW three phase)9U
3, Light weight, product net weight is about 40-120kg
4, 100% full power output
5, High efficiency > 94%
6, Two kinds of start mode:Variable frequency start(soft start) and step down voltage start
7, RS485 monitoring, AC bypass(grid or generator) input, built in solar charge controller(Optional)
8, Built in low frequency isolation transformer, which ensure the AC busbar and DC busbar are completely isolated, the harmonic and interference is very little, suitable for all types of load.
9, Suitable for off grid without battery system, the DC input voltage range can be choose from 48-100V or 100-300V or 200-500V or 400-800V or others customized voltage range.
10, Can continuously work for 7*24h, the design service life > 15 years.
11, Big LCD display, parameter setting flexible,input and output voltage,frequency can be set on LCD.
12, Using the sixth generation efficient IPM intelligent module from Japanese Mitsubishi, high efficiency and stable performance. It with powerful protection function, the protection for short circuit, over load, over temperature is more safe and reliable. It's service life can up to 15 years or more.
13, Power range: 1kw-12kw, can be customized to customer's requirements.
BZP-8KW/10KW Rack-mounted Type Small Size Inverter
Model

BZP-8KW

BZP-10KW

Isolation mode

Low Frequency Transformer

DC Input

Rated voltage (Vdc)

120V

192V

192V

240V

Rated current(A)

67A

42A

52A

42A

AC Output

Rated output power

8KW

10KW

Output waveform

Pure Sine Wave

Rated Voltage

220V±3%

380VAC±3%

220V±3%

380VAC±3%

Phases

Single phase

3 phase 4 wire

Single phase

3 phase 4 wire

Rated current(A)

36A

12A (phase current)

45.5A

15A (phase current)

Frequency

50Hz or 60Hz

Rated output voltage range (V)

110/120/220/230/240/380/400/415VAC optional

Power Factor(PF)

0.99

Overload Ability

150%, 5 seconds

Efficiency

>93%

Waveform distortion rate (THD)

<3%(Linear load)

Dynamic Response (0 to 100% load)

5%,≤50ms

Display

LCD

Running mode

Working continuously

Electrical insulation properties

2000Vac, 1 Minute

Communication interface (optional)

RS485

Protection Function

Protection

Input reverse polarity, under voltage, overvoltage, output over-current, short circuit, overheating etc.

Cooling method

Fan-cooled

Short-circuit protection

No automatic recovery, need to restart the machine

Working environment

Noise ( 1 meter)

≤50dB

Degree of protection

IP20(indoor)

Working Altitude(m)

≤2000

Working temperature

-25~+55℃

relative humidity

0~90%,non-condensing

Mechanical dimension

Depth* Width * Height

435*635*400mm
Above parameter only for reference,We could be custom made to user specifications
Off-Grid Pure Sine Wave Inverter
Our BZP series Off Grid Pure sine wave inverter is one of the most advanced DC to AC conversion products in the world, it is suitable use for areas without electricity, vehicles, ships, solar energy, wind turbine and other renewable energy systems and etc, can supply power and provide guarantee effectively for the areas with traffic inconveniences, in the mountains, pastoral, border, island and other areas without electricity. It has the main advantages of high quality sine wave AC output, microcomputer control, humanness design, and it is high efficiency and low no-load loss, and no pollution. The inverter can also supply AC power to all kinds of electric equipment, air conditioners, electric motors, refrigerators, fluorescent lights, televisions, electric fans and other industrial power supply.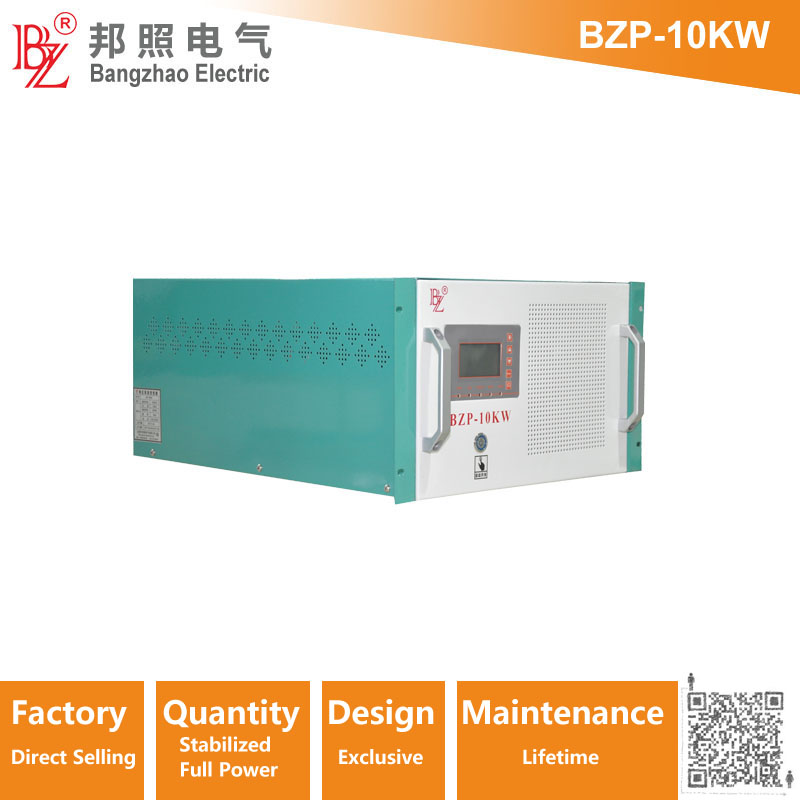 Rack-mounted Type Small Size Inverter from 1kw to 12kw power range can be choose.
Please feel free to give your inquiry in the form below. We will reply you in 24 hours.