110kw Pool Pump Inverter With Dual Input for pump motor
Brand : BZ or Bangzhao or OEM
Product origin : China
Delivery time : 5-7 working days
Supply capacity : 10000 PCS/Year
IP45 waterproof Pool Pump Inverter With Dual Input(Solar input and AC bypass input)
Product Description for IP45 waterproof Pool Pump Inverter With Dual Input
IP45 waterproof Pool Pump Inverter system is constructed with solar panel array, solar pump inverter and AC water pump, DC current produced from solar panel will be delivered to solar pump inverter, and it will convert it into AC current to drive water pump, and will automatically regulate output frequency according to sun radiance intensity, maximum realize MPPT tracking function.
Product Features for Pool Pump Inverter With Dual Input
1. Adopting the proposed dynamic VI maximum power point tracking (MPPT) control method & optimized SVPWM; fast response and stable operation; and the conversion efficiency achieves of 99.6%.
2. Adopting high-efficiency IPM (intelligent power module) from Mitsubishi with high reliability and high efficiency.
3. Designed with variable frequency driver (VFD), can be used in variable frequency speed regulation technology,greatly improves efficiency, and better to protect water pump and maximum utilization of solar panels.
4. AC drive function. When is no sunshine, such as at night, solar pump inverter can connect to AC city power to work by manually if AC power is available.
5. LCD display operating panel, can setting various parameters through LCD, easy to operation.
6. Complete protection function for PV input under voltage, PV input over voltage, input connection Reverse Polarity, DC over current, output, over load, short circuit, dry Well, overflow, dry running, and blocking protection.
7. Equipped with RS485 data communication for remote monitoring (Optional).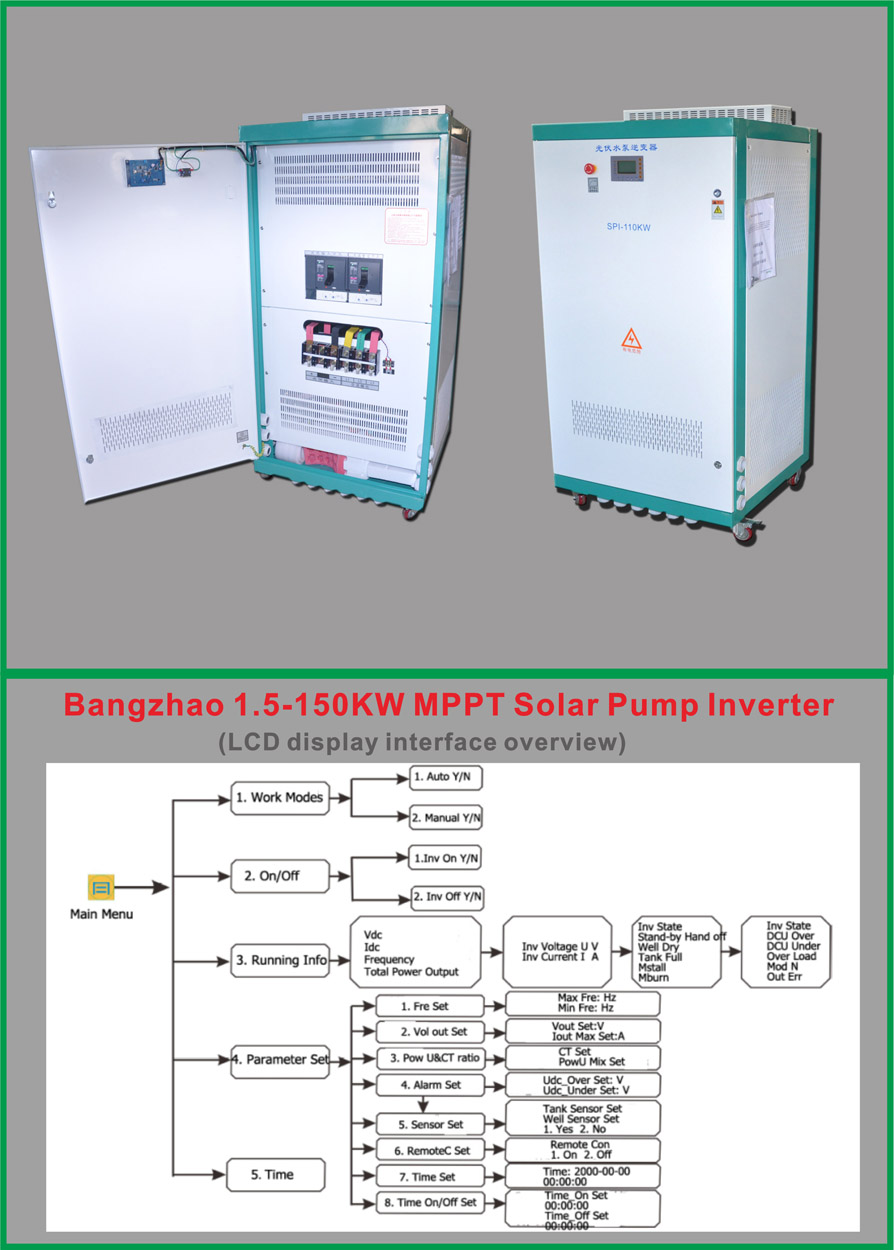 Technical details for IP45 waterproof Pool Pump Inverter
Model:SPI-

30KW

37KW

45KW

64KW

75KW

90KW

110KW

D.C. Input

Max.input voltage(VDC)

850V

Recommended

MPPT voltage

400-800V

Max.MPPT Efficiency

99%

Number of String

1

1

1

1

1

1

1

AC Input Function

380V-480VAC optional

A.C. Output

Max.Motor

Output Power(KW)

26-30

37

40-45

55-64

75

90

110

Rated Output Voltage

380V three phase

Output

Frequency Range

0-50/60HZ

Rated Output Current

60

75

90

130

150

180

220

Other Parameters

Protection Level

IP45

Operating Temperature

-25℃~+60℃; above 60℃ need derate operating

Cooling Way

Natural Cooling

Display

LCD

Communication

RS485(Optional)

Altitude

3000m;above 3000m need derate operating

Noise Emlsslon

<50dB

Compliance

EN62109-1:2010; EN62109-2:2011;EN61000-6-3;EN61000-6-1; EN61000-3-12; EN61000-3-11
Please feel free to give your inquiry in the form below. We will reply you in 24 hours.