IP45 outdoor low frequency inverter built in solar charger
Brand : BZ or Bangzhao or OEM
Product origin : China
Delivery time : 7-10 working days
Supply capacity : 10000PCS/Year
1,IP45 outdoor 2,pure sine wave output 3,with low frequency transformer 4,built in charge controller
IP45 outdoor low frequency inverter built in solar charger
Technical Features of low frequency inverter
1. Using the sixth generation efficient IPM intelligent module from Japanese Mitsubishi, high efficiency and stable performance. It with powerful protection function, the protection for short circuit, over load, over temperature is more safe and reliable. It's service life can up to 15 years or more.
2. Intelligentized, modularized, simple structure design with powerful function.
3. Two kinds of start mode: Step-down Voltage Start and Variable Frequency Start. Customers can set start mode according to the type of their load. This function is very convenient for users and also reduce frequency converter's usage, which reduced the cost of equipment investment, easy to connect wires and control.
4. The output frequency can be setting via LCD panel, it's very convenient for customer.
5. The output voltage can be set between -40 % to +20 % of rated voltage. And the output voltage is very accuracy ±1%.
6. The DC input voltage range can be set. Over-voltage point, under-voltage point, over-voltage recovery point, under-voltage recovery point all can be setting via the LCD panel.
7. Pure sine wave output. With good dynamic response less than 50MS, waveform distortion rate smaller, higher conversion efficiency and stable output voltage.
8. Low Frequency Transformer, which ensures that inverter has high efficiency.
9. High conversion efficiency, Max. Efficiency≥97%
10. Adopts black pure aluminum radiator, which confirms the best radiating performance.
11. Powerful data display function. LCD can display the DC input voltage, output frequency, phase voltage, phase current, AC bypass input voltage, output power KWH, time and date, temperature, fault code display.
12. Wide input voltage can be set according to customer's requirement. Input voltage range can be selected from 150-400V or 300-600V or 400-800V.
13. Wide input voltage can work without battery and solar charge controller,save more cost and With MPPT wide voltage input function, maximum use of solar power
14. Optional function:RS485 remote monitoring,AC bypass input,built in solar charge controller or AC to DC battery charger.
Technical Parameters (Normal model)
Model

BZP-3KW

BZP-4KW

Isolation mode

Low Frequency Transformer

DC Input

Rated voltage (Vdc)

48V

96V

96V

120V

Rated current(A)

63A

32A

42A

33A

AC Output

Rated output power

3KW

4KW

Output waveform

Pure Sine Wave

Rated Voltage

220V±3%

380VAC±3%

220V±3%

380VAC±3%

Phases

Single phase

3 phase 4 wire

Single phase

3 phase 4 wire

Rated current(A)

14A

4.5A (phase current)

18A

6A (phase current)

Frequency

50Hz or 60Hz

Rated output voltage range (V)

110/120/220/230/240/380/400/415VAC optional

Power Factor(PF)

1

Overload Ability

150%, 5 seconds

Efficiency

>93%

Waveform distortion rate (THD)

<3%(Linear load)

Dynamic Response (0 to 100% load)

5%,≤50ms

Display

LCD

Running mode

Working continuously

Electrical insulation properties

2000Vac, 1 Minute

Communication interface (optional)

RS485

Protection Function

Protection

Input reverse polarity, under voltage, overvoltage, output over-current, short circuit, overheating etc.

Cooling method

Fan-cooled

Short-circuit protection

No automatic recovery, need to restart the machine

Working environment

Noise ( 1 meter)

≤50dB

Degree of protection

IP20(indoor)

Working Altitude(m)

≤2000

Working temperature

-25~+55℃

relative humidity

0~90%,non-condensing

Mechanical dimension

Depth* Width * Height

450x450x760mm

Weight (Kg)

75Kg

86Kg
Inverter details can be according to your requirements.
Product Characteristics of solar charge controller
◆This product is manufactured according Chinese standard GB/T19064-2003 or according the customer's request.
◆Adopt PWM multistep sequential limiting current charge method, auto control multiple solar array connection or shut off orderly according to the battery group voltage change tendency.
◆Adopt multiple-circuit charging-control circuit and individual killer switch on each circuit.
◆With auto protection function of over charge, electronic short circuit, anti-reverse protection. Prevent the battery group reverse charging to the solar panel array at night.
◆Big intuitionistic LCD screen shows the working status of solar panels, battery and controller. ( the voltage, current, power of solar energy panel and battery)
◆Power switch driving circuit is completely isolated from sampling circuit. The control signals is transmitted by opto isolation, with super-high disturbence rejection and stability.
◆Power switch driving circuit is completely isolated from sampling circuit. The control signals is transmitted by opto isolation, with super-high disturbence rejection and stability.
◆There are lightning protection device inside the controller. Limit instantaneous overvoltage which entered into solar panels under a level which the system can withstand; or unload the strong lightning current to the ground. To protect the equipment from lightning surge.
◆Adopts the industrial-grade chips for all control, which can work under the cold, hot, humid conditions.
◆Temperature compensation function. Compensate the temperature according different battery type.
◆Fixable communication solution with RS-232,RS-485,USB,GPRS,Etherner,etc.
IP45 outdoor low frequency inverter built in solar charger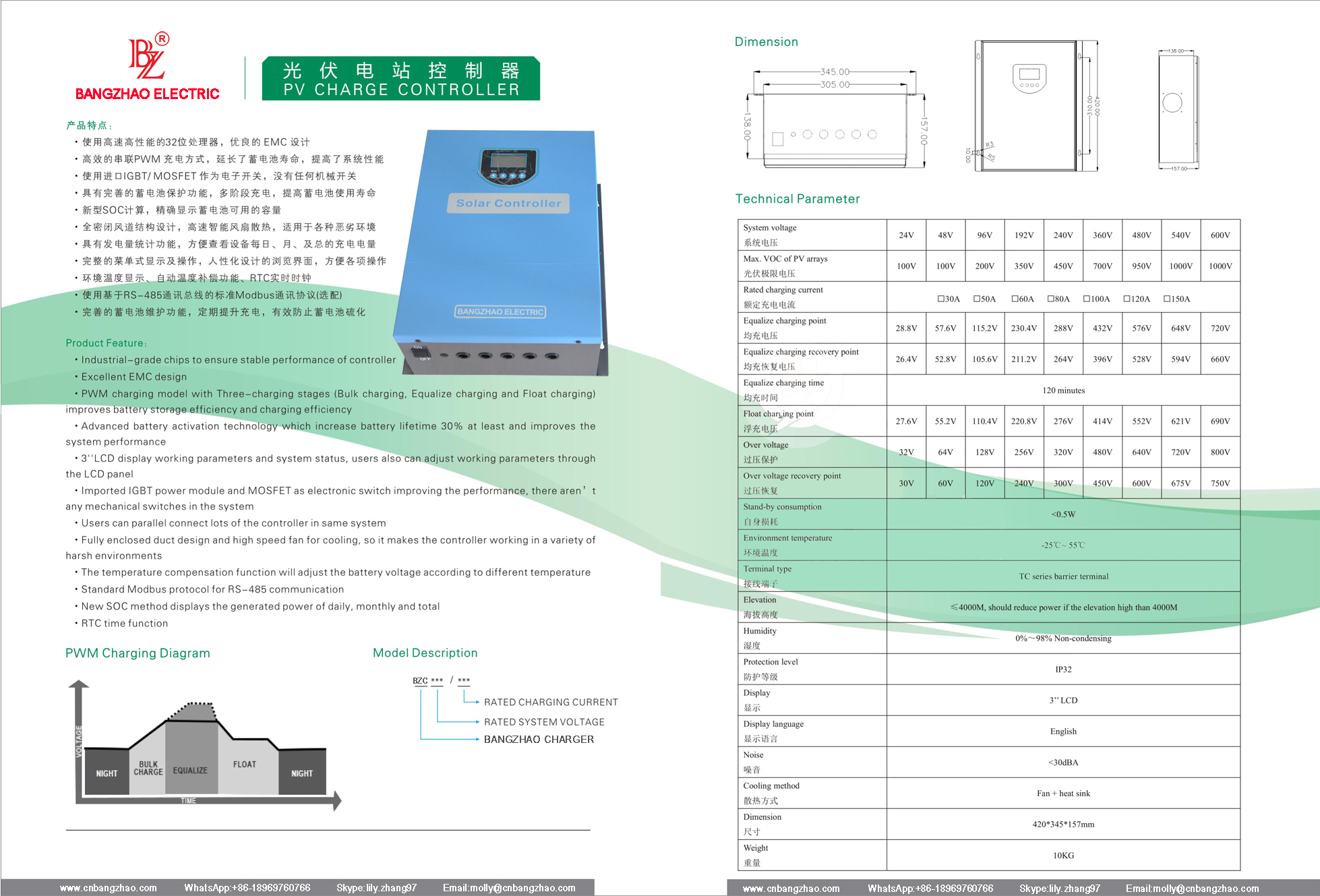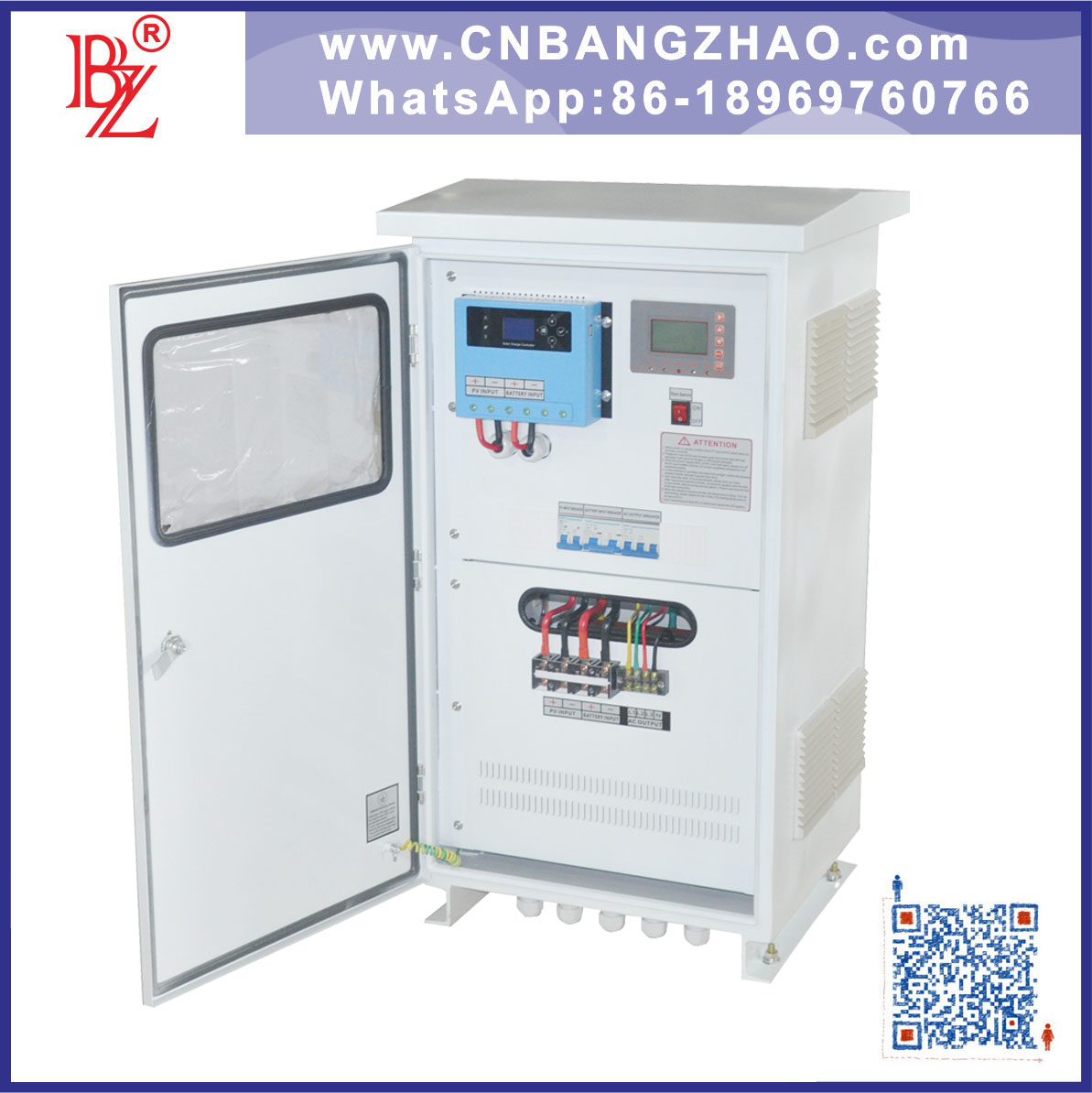 Please feel free to give your inquiry in the form below. We will reply you in 24 hours.